In search of spring
January 11, 2011
January is a weird month for shopping. On one hand, we're living in the worst part of winter. And on the other, stores are full of "resort" merchandise, which is just fancy retail speak for "shorts, but in navy!" And trust me, it's just as annoying (if not moreso) for those of us working in the stores as it is for our shoppers.
So what's a girl to do? Well, for me it means scoping out all my favorite haunts to see what the big trends are and what I'm responding to. Yeah, fashion magazines and Web sites already do that, but this is my way of discerning what I can find, afford and like. Doesn't matter if it's a "trend" if you can't get your hot little hands on it, amirite?
And since I've been snowed and iced into my apartment for the last two days, I've had plenty of time on my hands for some online shopping. What's on my list?
Ciggie pants. I'm going through a phase right now where I don't want fabric touching my ankles, apparently. Which can be kind of a problem when there's three inches of snow on the ground. Oh well. I plan on adding several more pairs of cropped skinny pants to my wardrobe this year.
A new black bag. Does any woman really need a new black bag? Well, in my case, yes. Well, kinda. I have three, but one's too big, one's too little and the other one could be juuuuust riiiiight, but it closes with a zipper. Ugh. I like this one, but so far it only comes in brown. And the search continues…
Pencil skirts. I'm digging the a-line minis for winter, but when summer comes and the tights go away, longer hemlines are the way to go. I can wear the right wool pencil skirt now and into spring. The cotton pencil skirts are ideal to dress up or down. How cute will these be with fancy sandals?
Wide-leg jeans. I have an amazing pair of trouser jeans that I love and I'd add another pair to the family and hem this pair for flats. Perfect for the retro 70s vibe I'm getting from the trend reports. I'm loving these J.Brands, but I might hit up my favorite consignment store to see if I can score some at a discount.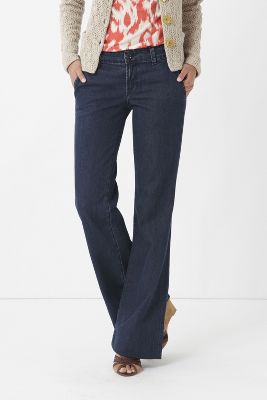 Sleeveless blouses. Layer them under jackets and cardigans now and wear them alone when it gets hot. I can wear them loose over skinny pants and tuck them into pencil skirts and trouser jeans. Banana Republic has a great variety and I can count on good sales and promotions, too!
Something in chambray. I wanted a chambray shirt last year, but it wasn't included my old job's dress code, so I passed. This year, though, is a different story. And rather than just a shirt, I think this shirtdress is the ideal way to embrace the trend.
What are you looking at this spring?